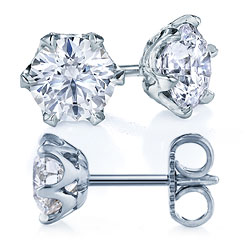 Right now, my mom in law and I are busy going through the website of professional jeweler James Allen. Their collection of
diamond engagement rings
which you can personalize in terms of the size of the stone and the design of the ring is enough to make any woman say yes.
We both like the collection of clear, beautifully cut
diamonds
and the little magnifying glass that comes along every stone that you choose for viewing. The earrings are also wonderful; the simple elegance of the studs just speaks for itself.
Aside from engagement rings and studs, there are also
wedding rings
which you can make your own design and choose the diamond's size. These matching rings would also be lovely anniversary presents. There are also loose diamonds you can purchase, so in case you have a piece of jewelry with a missing stone, you can easily order one here.
What makes it even better is that all of these items include free shipping through FedEx, plus a 30-day returns policy.